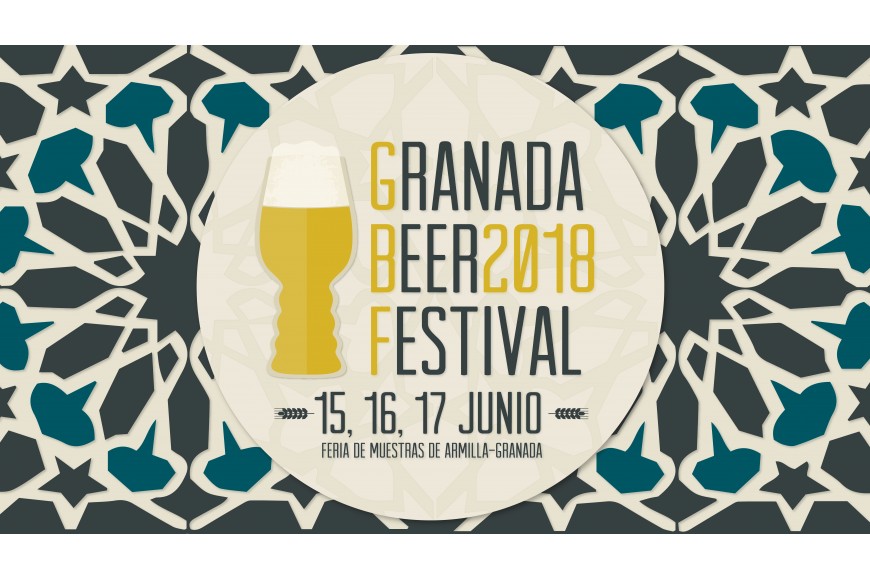 El evento tendrá lugar los días 15, 16 y 17 de Junio de 2018 en la Feria de Muestras de Armilla- Granada, con muchas novedades.
Granada volverá a convertirse en la capital de la cerveza artesanal el fin de semana del 15 al 17 de Junio, donde 36 cerveceras nacionales e internacionales ofrecerán más de 120 tipos de sus mejores cervezas artesanas. Este año el evento cuenta con varias novedades importantes como la ampliación del espacio gastronómico, donde 7 food trucks y 6 stands gastronómicos ofrecerán una amplia oferta gastronómica: desde hamburguesas gourmet, asado argentino, paella, opciones vegetarianas, crepes dulces hasta el famoso codillo alemán que tan bien combina con la cerveza, entre otros…
El evento se desarrollará en el pabellón climatizado de la Feria de Muestras de Armilla (Granada), a solo 20 minutos a pie del centro de Granada. También contará con una zona exterior de más de 2000 metros cuadrados.
Conferencias, Catas y Talleres:
En esta edición el festival contará con profesionales de primer nivel dentro del sector de la cerveza de la talla de Boris de Mesones, Fernando Campoy o David Castro que durante los 3 días de festival impartirán distintas conferencias relacionadas con la cerveza, su proceso de elaboración y su cultura. También habrá catas y maridajes en las que se podrá experimentar de primera mano la armonía entre la cerveza artesanal y lo quesos …o incluso los piononos, en la cata- maridaje de cervezas y postres que hay programada.
Taller de coctelería con cerveza, impartido por el World Class Alfonso Maya de Alexander, una de las catedrales mundiales de la coctelería o sesiones de "maridaje sensorial" entre cerveza y música completan el gran programa de esta edición.
Algunas de estas actividades son se acceso libre y otras previa inscripción (+ información http://granadabeerfestival.com/actividades-3/ )
Música en directo, shows y entretenimiento:
Música en directo, Dj´s , espectáculos de arte de calle, clowns, cabarés y malabaristas amenizarán las jornadas cerveceras a todos los asistentes. Además para la jornada del viernes 15 de Junio se instalarán pantallas gigantes donde se podrá disfrutar del primer partido de la selección española en el mundial de Rusia: España vs Portugal.
Para la jornada del sábado se esperan las actuaciones de los grupos El Sombrero de Rupert, Bandit 212, Rokavieja y Roses and the Black Thorns, además también habrá un taller y baile social de Swing ofrecido por la Asociación Graná Swing.
Al igual que en ediciones anteriores, tendremos una "PlayZone", una zona de juego con futbolines, pinball y máquinas arcade con más de 160 juegos para todas las edades.
Otra de las novedades en esta edición serán los sorteos que se han preparado para los asistentes al festival: un viaje fin de semana a República Checa, patrocinado por la cervecera checa Primator, o 9 circuitos spa, en el primer spa cervecero de España patrocinado por "BeerSpa Granada"
Por otro lado los niños tienen la diversión asegurada: una ludoteca que ofrecerá talleres infantiles, castillos hinchables y atracciones acuáticas durante las 3 jornadas de Festival.
Área Profesional:
Granada Beer Festival 2018 también será un punto de encuentro para los profesionales del sector de la cerveza en España. El evento contará con un "área profesional" donde distintas empresas del sector exhibirán sus productos y servicios además de acceder a una zona habilitada para networkings que servirá de punto de encuentro entre los expositores y los asistentes profesionales al festival (distribuidores, hosteleros, medios de comunicación especializados…)
Más de 120 tipos de cervezas artesanales traídas directamente por sus productores, food trucks , música en directo , catas, talleres y el mejor entretenimiento para toda la familia . ¡No te lo puedes perder!
Venta de entradas anticipadas a precio reducido:
EMPRESAS PARTICIPANTES EN EL ÁREA PROFESIONAL
Maltas Swaen
Cervezanía
Thielmann The Container Company
Agronet Brewing
Lallemand
Polykeg
Brewing Dreams – Consultoría Cervecera
Hacercerveza S.L
Cresol
On Tap Granada – Cerveza de grifo en casa
Gráficas EX 3.14
Cursos de Especialización en Cerveza Artesana y Microcervecerías
Serigrafía CASBE
CERVECERAS PARTICIPANTES
- La Quince Brewery (Madrid)
- Stone Brewing (EE.UU / Alemania)
- Cerveza Sanfrutos (Segovia)
- Cervesa Montseny (Barcelona)
- Compañía de Cervezas del Valle del Kahs (Madrid)
- Cerveses La Pirata (Barcelona)
- BrewDog (Escocia)
- Nomada Brewing Company (Barcelona)
- Cervezas Alegríarí(Valencia)
- Cervezas La Cibeles (Madrid)
- Boris Brew (Madrid)
- Cervezas Mammooth (Granada)
- Pivovar PRIMÁTOR (República Checa)
- Cerveza Domus (Toledo)
- Mean Sardine Brewery (Portugal)
- Menos Lobos Brewing Co. (Granada)
- Cervezas La Virgen (Madrid)
- 3Monos Craft Beer (Málaga)
- Ballut Cerveza Artesana (Badajoz)
- Founders Brewing (EE.UU)
- Cerveza Capitán (Córdoba)
- JUDERÍA (Córdoba)
- Cervezas Gaitanejo (Málaga)
- Puchero Cervega (Granada)
- Cerveza LA SAGRA (Toledo)
- GRX Brewing (Granada)
- Brasserie Azimut (Francia)
- Portolobo (Granada)
- Cervezas Albero (Sevilla)
- Cerveza Vega (Granada)
- Cervezas Populus (Zaragoza)
- Mulhacén (Granada)
- O'Hara's (Irlanda)
- Basque Oak Brewery (Vizcaya)
- Marina (Gerona)
- Chouffe (Bélgica)
- Asociación Española de Cerveceros Artesanos Independientes, grifos rotativos : Galician Brew, Four Lions, Dawat, Mica, Urban Beer, Arriaca, Forastera, Byra
ESPACIO GASTRONÓMICO:
FOOD TRUCKS:
- MOW street food
- Baden Baden Foodtruck
- El Rincón de Lulú
- Croquetruck
- KalmaChicha Natural Street Food
- Country food
- La Pirulina
PUESTOS GASTRONÓMICOS :
- El Fermentador Cervezas Artesanas - Plaza de toros
- Los Bandios Urban BBQ
- La FINCA Coffee
- El Almacen
- Burguer Festival
- Paella todos los mediodías
Además también dispondremos de cerveza sin alcohol, cervezas sin gluten, refrescos y otras bebidas sin alcohol.